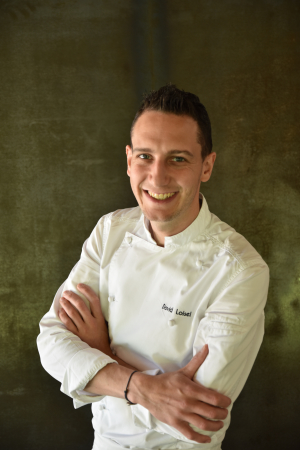 At just 29 years old, the Breton David Loisel has taken over the kitchen of the gastronomic restaurant, L'Orangerie. Loisel has worked with some of France's greatest starred chefs, and like them, dreams of one day hanging a star on the château's pediment.
Lyon, Paris, St-Barths, New York, Monaco… It was these various culinary experiences around the globe that inspired David Loisel's cuisine, character and creativity. His cuisine blends the warm and authenticity of a Paul Bocuse, techniques acquired from Christian Lherm, perfect pairings from Guy Savoy and finally a mastery of berries taught by Sylvestre Wahid.
However, David Loisel is now writing his own unique chapter at the Château de Candie, bringing with him his passion for gastronomy, meticulousness, method and above all his creativity to integrate local and regional products with his Breton origins. Loisel sources his ingredients from local producers between Chambéry, Annecy, Les Bauges and Grenoble, who are just as passionate as he is for quality, flavour and food-wine pairings.
Reflecting the 'Millennial' generation, Loisel cares deeply about nature and integrates his desire to protect the environment into his passion for great food. Taking advantage of the natural space in the Château's park, David Loisel and his team have planted a vegetable garden near the vineyards to grow aromatic plants, seasonal vegetables, Mexican tea, Rocambole garlic and Amaranth. The park also has natural resources such as watercress, bear's garlic and nettles, creating a whole environment from which David Loisel draws inspiration to create new flavours and dishes, such as honey dessert, made from the bees nesting in the Château de Candie hives.
David Loisel invites guests to discover his 'Carte Blanche' menu. The chef meets his guests to find out about their food habits and tastes, afterwards offering a 5 or 7 dish menu. No one knows the menu selection but these dishes are tailor-made to individual tastes while offering a few surprises. Enter the world of David Loisel and let yourself be transported on a taste and culinary journey.